Conference key note

Open Access
Economics: the view from below
Swiss Journal of Economics and Statistics
2018
154:5
Received: 7 December 2017
Accepted: 11 December 2017
Published: 25 January 2018
There is a long tradition among sociologists of using economics as an intellectual straw man. For a while in the 1980s and 1990s, every economic sociology article, on every topic, ran something like this: it began by ritualistically presenting the view from economics, and then proceeded to pull it to pieces by showing that "it is, in fact, much more complicated" than the play of interests and incentives. Against what they regarded as naïve economism, sociologists and anthropologists "demonstrated" the relevance of social networks, or culture, or politics to explaining various economic outcomes, and questioned the standard of "economic rationality." They celebrated their "dirty hands" against the economists' "clean models" and worried about the encroachments of rational choice theory into their discipline (Hirsch et al. 1987; Wacquant and Calhoun 1989). To the "anthropological monster" that they saw in Homo Economicus, and in Stigler and Becker's injunction that "De Gustibus non est disputandum", they opposed their own sociological theories of action, rooted in a fine-grained understanding of how necessity shapes choice and how relative social position shapes taste (Bourdieu 2000).
Paradoxically perhaps -but in what amounts to a classic defense of the disciplinary boundary- the sociologists' main targets in those days were often those economists closest to them intellectually: the economic historian Alfred Chandler, the institutionalists Oliver Williamson and Douglas North; and the microeconomist Gary Becker (who had a joint appointment in the Chicago sociology department).1 Economists, of course, did not care very much about all of this agitation on the other side of the disciplinary border. Most were probably unaware of the sociologists' anxious fixation with their science. And those who knew about it, like Gary Becker, possibly felt: never mind, all publicity is good publicity.2
The fixation, eventually, gave way to something a bit deeper and hopefully more productive: first, sociologists (and others, such as historians and science studies scholars) started to free themselves from their inferiority complex and became more confident in their own contribution to the analysis of economic processes (some of which, like network analysis, has influenced recent economic research); second, they turned their analytic lens toward economics itself. They started to investigate the sources of the economists' authority and its complicated relationship to democratic politics; building on the contributions of historians of economics, they probed the discipline's development over time and its variability across nations, shattering the myth of a universal science; and they strove to make sense of what the expansion of economic technique means for the way we live our lives. This is what this talk aims to share: a view of economics from its outside, looking at it from below.
Footnotes
1
Chandler's historical work provided a useful foil, which sociologists used ad nauseam to debunk the generic argument that "certain institutions exist because they are efficient solutions to various problems in the economy" (Granovetter and Swedberg 2011). A similar critique, rooted in detailed empirical analyses of how firms work, was leveraged against the new institutionalist theory that hierarchical structures arise as efficient responses to problems of transaction costs and opportunism (Granovetter 1985). And nothing compares with the feeling of jubilation that came from exposing the crudeness of Gary Becker's view of human action, where preferences are exogenously given and "de gustibus non est. disputandum." (Stigler and Becker 1977).
2
Whatever they thought, the nervous and often negative attention economics received from its sister disciplines did not make it more likely to engage with them. These imbalances have been structuring the social sciences for a long time, and they were certainly there when I entered graduate school in sociology back in the early 1990s. In 2000, 81% of the citations of economics journals went to themselves (the corresponding numbers are in the 50% for sociology, political science, etc.). My own examination (with co-authors Etienne Ollion and Yann Algan) of the structure of interdisciplinary citations in the social sciences in the 2000s revealed profound asymmetries. Between 2000 and 2009, articles in the
American Political Science Review
cited the top 25 economics journals more than five times as often as the articles in the
American Economic Review
cited the top 25 political science journals. The asymmetry was even starker with regard to the
American Sociological Review
. While only 2.3% of the sociologists' citations went to their economics colleagues, just 0.3% of economists' citations went to sociologists (again only taking into account the top 25 journals in each discipline), almost 8 times less.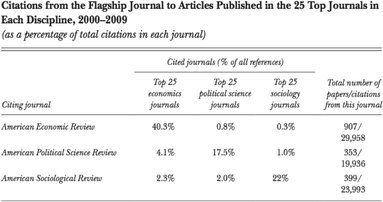 3
The Harvard Economic Service was reorganized as the Harvard Economic Society in 1927, in an effort to sever its relationship to the university.
4
Caballero continues: "We are digging ourselves, one step at a time, deeper and deeper into a Fantasyland, with economic agents who can solve richer and richer stochastic general equilibrium problems containing all sorts of frictions. Because the "progress" is gradual, we do not seem to notice as we accept what are increasingly absurd behavioral conventions and stretch the intelligence and information of underlying economic agents to levels that render them unrecognizable" (2010, 90).
5
For instance, Hayek might have been horrified by Cahuc and Zylberberg's forceful extolling of experimentalism as to path to scientific truth in economics (2016).
6
Let us remember that the discourse of economics in the classical age was entirely focused on the analysis of wealth (Foucault 1994).
7
"Up until about the 57th percentile, engineers make the most. But then the earnings curve for economics grads basically goes parabolic. At the 95th percentile, they can expect to earn more than $3 million more during their lifetime than an engineering grad" (Weissmann 2014).
8
Another consequence is that it is often as members of a privileged class that economists now confront the public (where their privilege is measured not simply by education and social origins, but increasingly by personal income and wealth). Also, inequalities have increased within the economics profession itself, too. The higher monetary valuation of certain economists (and fields within economics) might also create or reinforce beliefs that these inequalities simply reflect an objective hierarchy of knowledge (Fourcade, Ollion & Algan 2015).
9
There is some evidence that—perhaps due to the economic and institutional transformations I just referenced (rising economic fortunes, the rise of business schools)—the economics profession as a whole has experienced a slight shift to the right since the 1970s. Also, there is substantial evidence that laymen exposed to economic reasoning display more selfishness and are more likely to emphasize efficiency rather than equity (Fisman, Kariv and Markovis unpublished manuscript). Professional judges exposed to economics tend to give harsher sentences (Ash, Chen and Naidu 2017).
10
The authors reject the consensus + noise null hypothesis.
11
The authors mitigate the possibility of reverse causation by using only ideology estimated from papers published before the paper containing the reported ideology/elasticities.
12
The sources of variation in mathematics are: (1) the "cognitive style," (2) the "framework of associations, relationships, uses, analogies, and metaphysical implications attributed to mathematics," (3) "the meanings attached to computations and symbolic manipulations," and (4) "the type of reasoning which is held to prove a conclusion" (Bloor 1976, 110).
(1)
University of California-Berkeley, Berkeley, CA, USA